Check out our Trinity graduate stats from Hinsdale South, Class of 2012: Trinity grads averaged 28.0 on their ACT exam and Hinsdale South Class of 2012 averaged 22.8.

Mallory Douglass, Trinity Class of 2012, Lemont H.S. Freshman: Mallory was asked to be a part of Lemont's WYSE Team (Worldwide Youth in Science & Engineering) for their Academic Challenge. The regional event was held on Feb. 8 and the Varsity team advance to Sectionals. Mallory was on the JV team so her score was individual but the individual competition included all grade levels, so she was competing against seniors in high school. Mallory advanced to Sectionals, only 2 freshmen advanced! Her tests were in Biology and English. Way to go Mallory!!!
Announcing Lemont High Schools 2nd Quarter High Honor (3.5+) Students from Trinity's Class of 2012! Mallory Douglass, Chase Huron, and Claire Burner
Announcing Hinsdale South Dean's List and Honor Roll for 2012-2013 1st Quarter!
Dean's List: Evan Ebert, Class of 2013, Tatiana Murphy, Class of 2014, Sara Wendte, Class of 2014, David Dahms, Class of 2016, Aimee Ernst, Class of 2016, Ethan Grady, Class of 2016, Joseph O'Shea, Class of 2016, Nirali Patel, Class of 2016
Honor Roll: Nathan Nieto, Class of 2013, Brandon Nieto, Class of 2014, Ivo Iliev, Class of 2016
Trinity 8th graders graduate to more than six area high schools: Argo, Lyons Township, Lockport, Hinsdale South and Central, Lemont, Walther, and Nazareth.
Trinity grads are smart and successful; they have confidence to join sports, school clubs, they easily make friends and they make better decisions because of their firm foundation in Christ. We are proud of the accomplishments of our alumni!
More than 50% of our graduates test into honors or advanced placement classes and recently Trinity grads at Hinsdale South tested on average at a 24 ACT score.
Let us know about your Trinity experience and we'll add your success story to our website!
"I love participating in peer leadership network, yarning for a cause, madrigal dinner, pit orchestra, choir, and the Tri-M Music Honors Society, but I love band most of all. I'm glad I had the opportunity to take flute lessons and get the experience of playing in a full-sized band through Trinity. Transitioning into high school band after that was easy. My favorite subject in school has always been math; I am currently a class ahead of most of my peers in high school thanks to the math program at Trinity. Besides music and academics, the thing I love most about Trinity is the good Christian education I received. It helps me when I interact with my peers. When I started high school, I could count all my friends at Hinsdale South on one hand, but I now have too many friends to count! Also, the strong faith that 11 years at Trinity built in me really helps to get me through all the crazy things that come with high school life; from disagreements with friends - to bullies. I am so glad I attended Trinity and I wouldn't have it any other way." Sara Wendte, Junior at Hinsdale South (1st quarter Dean's List 2012-2013)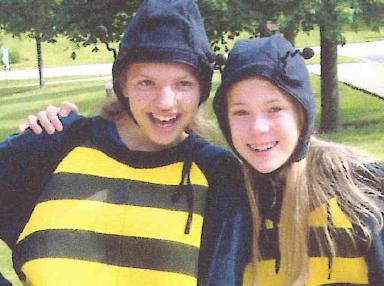 Christiaan Burner, Trinity Alum and sophomore at the University of Illinois, won the silver medal at the Junior level at the United States Figure Skating National Collegiate Championships held in Cape Cod. Christiaan was recently elected vice president of the College Republicans and started a not-for-profit, nonpartisan, student educational organization "Restore Our Principles". Nathaniel Burner, Trinity Alum and sophomore at Lemont H.S. is a high honors student and plays varsity tennis. He won the conference second singles championship and made it to the quarterfinals at sectionals, missing the state tournament by one match. Claire Burner graduated from Trinity as valedictorian this past June and is a freshman at Lemont H.S. She continues to make a 100 mile daily round trip to the skating rink, ballet lessons, off-ice training and gymnastics. She recently won the silver medal at Skate Detroit!

Trinity is proud that we have families that attend from as close as down the block and as far away as twenty miles. Trinity students attend many different high schools and colleges and we've listed a few of them below:
Colleges
Concordia River Forest
Purdue University
Calvin College
Clemson University
Valparaiso University
University of Michigan
Ross School of Business
University of Iowa Carver College of Medicine
Millikin University
Moraine Valley Community College
Austin Peay State University
Lewis University
Western Michigan University
Michigan State University
Colorado State University
College of DuPage
Illinois Technical Institute
Illinois State
Aurora University
Concordia Wisconsin
University of Illinois
Elmhurst College
Indiana University
Western Illinois
Trinity College
South Suburban College
North Central College